How Aaron Dobson Compares to Randy Moss
By: Mike Dussault, Bleacher Report
When the New England Patriots selected wide receiver AaronDobson in the second round of the NFL draft, the comparisons to the last NFL star to come out of Marshall were inevitable.
The Patriots have lacked a true X-receiver ever since the Thundering Herd's Randy Moss was traded to the Minnesota Vikingsin 2010. Since then, the Patriots have lacked an outside threat and have tried repeatedly to fill the void with a collection of free agents like Chad Ochocinco and Brandon Lloyd.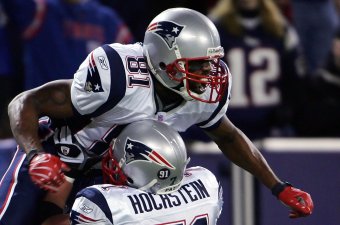 Chris McGrath/Getty Images
Dobson, the most prolific receiver to come out of Marshall since Moss, will be the latest to get a shot as a difference-maker for the Patriots' passing game.
The comparisons to Moss are obvious, but the fact is, Dobsonis not Moss, and he doesn't need to be.
Let's get this out of the way: Randy Moss is one of the greatest wide receivers to ever play the game. He was the original freak, and his numbers at Marshall in comparison to Dobson hammer it home.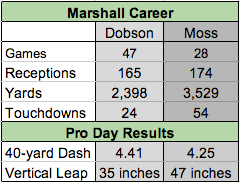 The closest comparison you'll get to the two players is their height and subsequent effectiveness scoring touchdowns, with Moss coming in at 6'4″ 215 pounds and Dobson just a shade smaller at 6'3″, 210 pounds. In the red zone, Dobson could provide the kind of big target that Tom Brady has lacked since Moss departed.
But outside of their size, there are few similarities between the two players. Moss was off-the-charts in every category, physical and statistical, but that doesn't mean Dobson cannot have a positive impact with the Patriots.
Perhaps the more apt comparison is to another Marshall receiver to play for the Patriots, Troy Brown. Brown had comparable stats toDobson, though it came against Division 1-AA competition.
For his career, Brown had 139 receptions for 2,746 yards and 24 touchdowns.
Brown was an eighth-round draft pick and entered the NFL with little fanfare. It took him five seasons before he started a game. Dobsonwon't have the luxury of flying under the radar like that, but he has all the tools necessary to make an instant impact.
Moss electrified NFL fans with his dizzying athleticism, but he still never managed to take home a Super Bowl trophy with the Pats. Brown brought home three.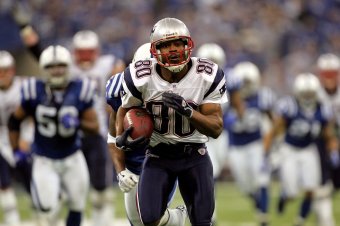 Doug Pensinger/Getty Images
While Brown lacked Moss' ability, he always made big plays on the biggest stages, like his 2001 AFC Championship punt return for a touchdown, or even his forced fumble after a Tom Brady interception in the 2006 AFC divisional playoff against theChargers that kept the Pats alive.
The Patriots don't need Dobson to be Randy Moss. They need him to be the hard-working, reliable receiver that Troy Brown was. That is howDobson can make the biggest impact in New England.
There are plenty of other weapons around him to make his life easier. It's just a matter of getting in sync with Tom Brady and understanding what he needs to do.
And if he makes a couple circus catches in the end zone like Moss, that would be okay too.
Mike Dussault is a New England Patriots Featured Columnist and is the Editor-in-Chief of PatsPropaganda.com. You can follow him on Twitter here.
by 245 master
posted at 2:06 pm
October 10, 2014