AFC East Q&A: Patriots WR Aaron Dobson
By: James Walker, ESPN.com
The New England Patriots need help at wide receiver after the departures of 2012 starters Wes Welker and Brandon Lloyd.
[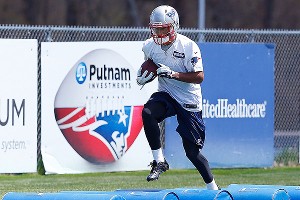 Jim Rogash/Getty ImagesAaron Dobson was not highly-recruited out of high school but ended up a second-round pick in the NFL draft.
Patriots second-round pick Aaron Dobsonwill be one of those key players competing for a starting role with the reigning AFC East champions. Dobson comes to New England with a spectacular highlight reel at the University of Marshall.
The AFC East blog caught up with Dobson during a community event in this week's NFLPA's Rookie Premiere in Los Angeles to discuss a variety of topics.
Aaron, how good is it to spend time with NFL rookies this week who are going through the same adjustment? 
Aaron Dobson: It's definitely fun, just out here in LA. We've all known each other just going through this [draft] process, and now we're getting to know each other even more and giving back to the kids.
Marshall was the only college to offer you a scholarship and now you're a second-round pick for the Patriots. Were you a late bloomer?
Dobson: I really just think it was where I was playing high school football. West Virginia is not a highly-recruited state. I think it was more me being from there. But I got the opportunity at Marshall and I made the best of it. Now I'm in a position I wanted to be in my whole life. So I wouldn't take it back for anything.
What's your thoughts on catching passes from future Hall of Famer Tom Brady and learning New England's offense?
Dobson: It's just great to be in the league and catching passes from any quarterback. But it being Tom just makes it icing on the cake. It's great and I'm exciting to be a New England Patriot. The offense is definitely something I have to learn. I have to put my mind to it and be focused. I'm taking it day-by-day to learn it and get comfortable with it.
How did you make so many one-handed catches at Marshall?
Dobson: It's all instinct. I'm just going for the ball and I attack the ball very well. That's how it happens. I can bring them in with one hand and I can catch with two hands. It's just being focused, really.
Congrats on the graduation. How important was getting a degree before leaving school?
Dobson: Thank you. It was real important. I got out in three and a half years. I graduated in December, so it was great. My mom is real happy. She's glad I got my degree and an NFL contract. So it's just a blessing.
by 245 master
posted at 2:14 pm
October 10, 2014